Commandments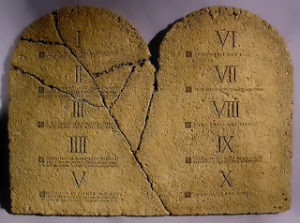 The Commandments of God the Fathers are laws to guide us from sin and back to Him in His Kingdom. These Commandments are the controlling statute, which sets the rules in writing, by what is and is not acceptable in the eyes of God the Father. Although many of these laws are similar in context to laws of the land, i.e. "Thou shalt not kill, Thou shalt not bear false witness and eight others, they are primarily to safeguard our individual rights and live in harmony with each other. Many see these Commandments as restrictions that take away freedom, but the reality is they set us free, so we are not bound by fear and evil of the world. Moses was given the Ten Commandments on Mount Sinai for the people of Israel to live in peace and harmony with the laws of God and each other.
With the coming of Jesus Christ He fulfilled the specific laws of Moses and gave us more complex laws. This does not mean the ten commandments are of no effect, they are still valid, it that these are called the simples commandments, i.e. Thou shalt not. In Jesus commandments they are the same if you consider the words, i.e. That if you love your neighbour as yourself, if you do love him,  you would not steal, kill, bear false witness, covet his house or commit adultery. The are considered as all encompassing a more complex commandments.
Commandments should not be thought of as restrictions, but as freedoms. Sin is the binding of life, a perpetual downward spiral that holds no freedom. With the coming of Jesus Christ He changed the commandments to give us more meaningful commandments. He said; "Thou shalt love the Lord thy God with all thy heart, and with all thy soul, and with all thy mind. [38] This is the first and great commandment. [39] And the second is like unto it, Thou shalt love thy neighbour as thyself. On these two commandments hang all the law and the prophets." [Matthew 22:37-40]. Some time later in the gospel of John, Jesus adds a new commandment, He said; "A new commandment I give unto you, That ye love one another; as I have loved you, that ye also love one another." [John 13:34].
The Commandments are the straight roads through life and we are not perfect and therefore we sometimes lose our way along these roads and this is sin. Jesus tells us all sin can be forgiven, except on, and that is against the Holy Ghost. He said "Wherefore I say unto you, All manner of sin and blasphemy shall be forgiven unto men: but the blasphemy against the Holy Ghost shall not be forgiven unto men. [32] And whosoever speaketh a word against the Son of man, it shall be forgiven him: but whosoever speaketh against the Holy Ghost, it shall not be forgiven him, neither in this world, neither in the world to come." [Matthew 12:31-32]. As you can read all sin can be forgiven if you truly repent with a broken heart and a contrite spirit.
During the day I am sure many of us sin without realising that we have sinned, this is why in prayer we should always use the phrase Jesus taught us "And forgive us our debts, as we forgive our debtors." [Matthew 6:12], the words debts means, "forgive us our sins". It is about understand the path way back from sin, which is the path back to God. It is the knowing of our sins, which are the ones that give us anguish, these make us feel guilt inside, which is the Holy Ghost, telling us to repent. if you sin, such a bad sin and you know this, then you need to make amends for that sin, the first thing to do when you can, is find a place of peace and ask God the Father in prayer to forgive you. You need His forgiveness quickly in your life, to continue to have the protection of the Holy Ghost. This can absolve you and give you peace, you may still confess later, but you have not lost you guide, the Holy Ghost. Many feel the need for confession of sin and that may be right as we are told within the scriptures, in James we read; "Confess your faults one to another, and pray one for another, that ye may be healed," [James 5:16].
It is also important to continue to take the body and blood or communion of Jesus Christ, this sacrifice of atonement He gave was for our sins, this will heal you, in the words of Jesus the taking of this ordnance was for the remission of sin. Jesus said; "For this is my blood of the new testament, which is shed for many for the remission of sins." [Matthew 26:28]. When a person sin then the Holy Ghost will depart, because evil is with you but when you repent of that sin you cast out evil and the Holy Ghost can return, if you truly have contrition for your sins you can be forgiven. All sin have consequences but if you seek the repentance and the peace of God the Father in your forgiveness then you can be healed and be as clean.