Prayer & Faith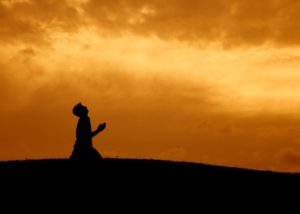 Prayer is faith and is our connection to God the Father through the Holy Ghost, it is our personal communication to Him. Its the ability to speak and listen to God making our wants, needs repentance and forgiveness more easily understood. As Christians we communicate with God by talking and listening in fervent prayer. This seems hard to understand in real terms, but we have to believe and accept, in faith, that God is there. Prayer is an act of faith, and as Christians we believe God lives and hears our prayers. We also have to accept that God can speak back to us and reveal knowledge, truth and understanding, through the Holy Spirit.
People have been calling upon God since the time of Adam; "And to Seth, to him also there was born a son; and he called his name Enos: then began men to call upon the name of the Lord" – [Genesis 4:26].
With the coming of Jesus, a clarification of prayer was taught. Jesus taught the format of prayer at the Sermon on the Mount. Prayer is a true act of faith – a belief that as we pray, we will be heard, otherwise, why should we pray? Praying has no value without faith and we have to believe in the power of prayer, and the faith of that prayer. The disciples hearing Jesus praying asked Him to teach them to pray. "And it came to pass, that, as he was praying in a certain place, when he ceased, one of his disciples said unto him, Lord, teach us to pray, as John also taught his disciples." [Luke 11:1].
Jesus tells the disciples that prayer is not to be done in a prideful way, so that people who see us praying won't think we are righteous. Prayer should be accomplished in private. "And when thou prayest, thou shalt not be as the hypocrites are: for they love to pray standing in the synagogues and in the corners of the street, that they may be seen of men. Verily I say unto you, They have their reward" – [Matthew 6:5]. 
Throughout the Old Testament, prayer becomes a tradition. People and religious leaders would become set in their way and repeat prayer over and over again. You cannot say prayers from a book, there are no truely written down prayers in books, these are the prayers of the author, the person that wrote the prayer. Today this happens so often when people read prayers from a book, these become a tradition and losses the meaning of prayer and the needs of the person are lost. Jesus said this about the tradition of prayer by repeating prayers as written; – "But when ye pray, use not vain repetitions, as the heathen do: for they think that they shall be heard for their much speaking" – [Matthew 6:7] Prayers come from within you, they are your prayers, your personal connection to God the Father, it must be your words. Find a place of peace and quite speak to God the Father without hast, using your words, tell Him about your problems, speak quietly and when you say Amen, just wait for a few seconds at peace in silence, God the Father may want to talk to you through the spirit.
Jesus taught us to pray privately, in a place of peace away from the world around us and distraction, He said "But thou, when thou prayest, enter into thy closet, and when thou hast shut thy door, pray to thy Father which is in secret; and thy Father which seeth in secret shall reward thee openly." – [Matthew 6:6]. Your closet can be any place where there is peace and quite, somewhere you will not be disturbed, away for the worldly things, so you can connect through the spirit.
Jesus teaches how to pray and explained the sort of things we should pray about. He did not say use His words this would be repetition, The Father wants to hear the real you and how you truly feel, your needs and wants; speak in faith, from the heart, it is by faith we are helped. He tells us the Father knows our needs before we ask, so this is a personal conversation between you and God, through the Spirit. Jesus said; "Be not ye therefore like unto them: for your Father knoweth what things ye have need of before ye ask him" – [Matthew 6:8]. In the world today we ask God for things without seeing beyond or the future, and without consideration that what we ask for, it may not be in our interest, because we cannot see the bigger picture, the future. The other point to consider is when we ask for human things, we some times get help in other ways and do not always see the help we have received. It is only when we look back at our lives do we see that God has help us because of our prayers.
So often I hear the expression that people pray for specific things, money, house, car or boat and because these things do not come deny that God is real, which shows a lack of faith. God is not the giver of gifts, the provider of you lavish needs for a life style. He helps in ways you do not always see within your life, but see when you truly look at your life. People pray for love to find the perfect partner, God will not force another person to love you, He is waiting for you to demonstrate that faith. If you truly have faith He may put people in your way, and it is up to you to demonstrate that faith; many do not see the things that are placed before them. He will not do you school work, but if you have faith, and demonstrate that faith, He may suggest to your mind certain learning, but people do not always listen. God does not control our lives like we are a puppet with Him pulling the strings. We are free and we control our own lives and are free to make choice within that life. God will help if you ask and that is faith, when you ask. So you see God does not see things as we do, He is a guide through the spirit within you, provided you have the faith, and believe.
When you pray and worship God it is through the spirit, in faith. Talking to the women at the well, who was not a Jew, but from Samaria, someone the Jews never spoke to or dealt with, Jesus said; "But the hour cometh, and now is, when the true worshippers shall worship the Father in spirit and in truth: for the Father seeketh such to worship him. [24] God is a Spirit: and they that worship him must worship him in spirit and in truth." [John 4:23-24]. We pray to God through the spirit, this is how God does know each of us through the Holy Spirit that is within each of us.
Jesus Taught the Lord Prayer, but first said: "After this manner therefore pray ye:" meaning not exactly the same, but in the way it is given or not to use His words; "Our Father which art in heaven, Hallowed be thy name. Thy kingdom come. Thy will be done in earth, as it is in heaven. Give us this day our daily bread, And forgive us our debts, as we forgive our debtors. And lead us not into temptation, but deliver us from evil: For thine is the kingdom, and the power, and the glory, for ever, Amen. " [Matthew 6:9-13] These are Jesus words that demonstrate the way we should pray; acknowledge and call upon God the Father, except that we try to do His work upon the earth, ask Him to provided for us, forgive our sins and forgive those who have sin or offended us, ask Him to keep evil from us and accept His divinity.
Pray and faith are together in that prayer is faith and if you have faith you will pray. There is measure of difference between faith and belief. Faith is demonstrated by an action, to kneel and pray is an action of faith. To believe God lives is in the mind and without any action is only a belief. To demonstrate this point, praying for a specific person in need or praying for a sick friend is an action, this is faith, your faith, as Jesus said talking to the disciples and people said; "Because of your unbelief: for verily I say unto you, If ye have faith as a grain of mustard seed, ye shall say unto this mountain, Remove hence to yonder place; and shall remove; and nothing shall be impossible unto you." [Matthew 17:20].
When Jesus healed the sick is was by faith, not belief; there are so many miracles mentioned in the Bible it is hard to give one, but they were all acts of faith. Jesus taught the principle of anointing the sick with oil to the disciples, this act of faith is given to the disciples when He sent them forth to teach His words to the people. Speaking about the disciples in Mark it reads, "And they cast out many devils, and anointed with oil many that were sick, and healed them." [ Mark 6:13]. This was a act of true faith by the disciples to heal people, but even if you anoint the head it is still faith that will heal them.
Jesus told us about faith and the healing of the sick when a centurion of Rome approached Him to heal his servant; "And when Jesus was entered into Capernaum, there came unto him a centurion, beseeching him, [6] And saying, Lord my servant lieth at home sick of the palsy, grievously tormented. [7] And Jesus saith unto him, I will come and heal him. [8] The centurion answered and said, Lord, I am not worthy that thou shouldest come under my roof: but speak the word only, and my servant shall be healed. [9] For I am a man under authority, having soldiers under me: and I say to this man, Go, and he goeth; and to another, come, and he cometh; and to my servant, Do this, and he doeth it. [10] When Jesus heard it, he marvelled, and said to them that followed, Verily I say unto you, I have not found so great faith, no, not in Israel. [11] And I say unto you, That many shall come from the east and west, and shall sit down with Abraham, and Isaac, and Jacob, in the kingdom of heaven. [12] But the children of the kingdom shall be cast out into outer darkness: there shall be weeping and gnashing of teeth. [13] And Jesus said unto the centurion, Go thy way; and as thou hast believed, so be it done unto thee. And his servant was healed in the selfsame hour." [Matthew 8:5-13]. The faith of this centurion was demonstrated when he went to Jesus. He was a solider of Rome, he may have been a idol worshiper, but he believed Jesus could cure his servant; he believed and showed that faith was by his action. May we do likewise and have faith.